Veterans Affairs
Our team of patient advocates, respiratory therapists and nurses are dedicated to helping veterans with COPD and other chronic respiratory conditions breathe easier.
Treating your chronic respiratory symptoms and still struggling?
Chronic productive cough?
Repeated antibiotic use for chest infections?
Multiple hospitalizations for respiratory conditions?
If you're experiencing these symptoms and effects, and you've been diagnosed with COPD, bronchiectasis, chronic bronchitis or other chronic lung conditions, airway clearance therapy might be right for you.
InCourage airway clearance therapy is a drug-free way to clear excess mucus from the lungs. In a registry study of RespirTech patients with confirmed COPD, patients reported after one year of vest therapy with the InCourage system1: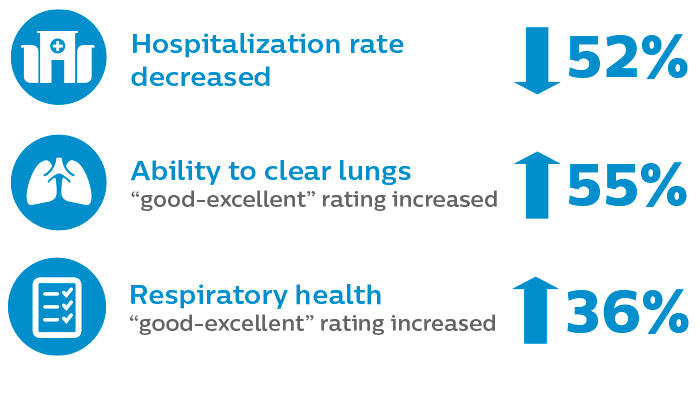 In addition to chronic bronchitis, symptomatic COPD and bronchiectasis, inCourage therapy is designed to help those affected by:
Acute and chronic lung injuries
Amyotrophic lateral sclerosis (ALS)
Pneumonia
Post-surgical airway clearance needs
Quadriplegia
"I had been coughing up stuff from my lungs, there was a rattle in my breathing [and] I had a couple bouts of pneumonia. A month after starting [InCourage vest therapy], my lungs cleared rather suddenly with no more rattle." *

— Steven, a Veteran Affairs patient

*Individual patient results may vary
Healthcare providers — Here's how to order the InCourage system for your VA patients through First Nation Group, an approved supplier.
VA patients often qualify to receive the InCourage system to help treat their chronic respiratory conditions. Simply fill out the inquiry form below to receive an informational packet about vest therapy. You can share this information with your doctor to find out if you are a candidate for the InCourage system.
Complete this form to receive your InCourage Information Kit
1. Methodology: Phone surveys at regular intervals with COPD patients using the InCourage system, as part of a subset of the overall RespirTech bronchiectasis outcomes registry. Data collection began in 2013. As of 11/31/18, 154 patients completed the baseline survey; 108 patients in 1-month cohort; 89 in 3-month cohort; 70 in 6-month cohort; 43 in 12-month cohort.
2. Milla CE, Hansen LG, Weber A, Warwick WJ. High-Frequency chest compression: effect of the third generation compression waveform. Biomed Instrum Technol 2004; 38:322-328. Note: 8 CF patient study comparing triangular vs. sine waveform technology.