Lung Disorders
Neuromotor / Neuromuscular Disorders
Chronic Obstructive Pulmonary Disease
Chronic obstructive pulmonary disease (COPD) is an umbrella term for a spectrum of chronic respiratory disorders characterized by symptoms including limited airflow, shortness of breath and tissue inflammation. Frequently heavy tobacco exposure leads to airway obstruction and airway clearance damage. Significantly increased sputum production, or chronic bronchitis, is common but not universal.
Currently, an estimated 30 million Americans are living with COPD. Annually, more than 100,000 deaths, 500,000 hospitalizations, and 14 million office visits are attributed directly to the condition, at an estimated total cost of over 50 billion dollars.
In many cases those living with COPD are also suffering from bronchiectasis, a condition characterized by severe cough and the production of large amount of mucus or sputum. The chart below indicates the increasing potential for HRCT (High Resolution Computed Tomography) confirmed bronchiectasis in patients with COPD.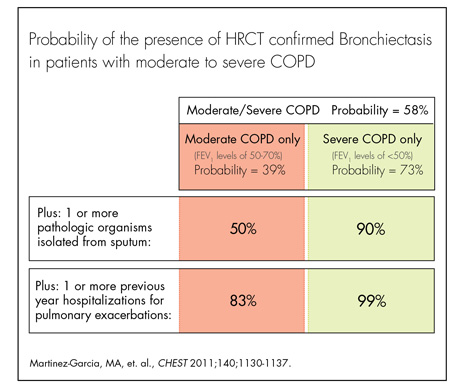 Disease management is directed toward managing symptoms, improving quality of life, and slowing disease progression. Although the pace and severity of symptoms varies markedly from patient to patient, patients with the "best" outcomes are those who, together with their physicians and families, find ways to control their symptoms and to live as fully as possible.
Until recently, COPD has been considered progressive, irreversible, and incurable. New insights have led to the development of novel strategies with the potential to modify or control some causes and effects of disease progression.
Effective secretion management has the potential to help manage COPD symptoms and consequences including:
Excess airway mucus
Airway inflammation
Airway obstruction
Dyspnea or shortness of breath
Bronchial spasm
Recurring infections
Pneumonia
Respiratory failure
Need for mechanical ventilation
Quality of life deterioration
Healthcare costs
Risk of premature death