The Clear Choice in Airway Clearance for Veterans
Better Breathing for Better Living
Military veterans are among the growing number of Americans affected by chronic respiratory conditions,1 which can contribute to the inability to adequately clear excess mucus from the lungs. This can result in chronic inflammation and infections that can cause permanent lung and respiratory function damage.2
Vest therapy helps clear excess mucus from lungs and airways.
The inCourage® System can help veterans affected by:
Spinal cord injuries
Quadriplegia
Traumatic brain injury
Amyotrophic lateral sclerosis (ALS)
Bronchiectasis
Chronic bronchitis
Chronic obstructive pulmonary disease (COPD)
Post-surgical respiratory problems
Acute respiratory distress syndrome
Pneumonia
Acute lung injury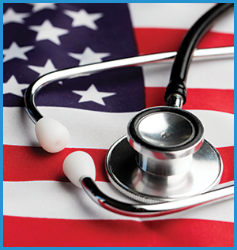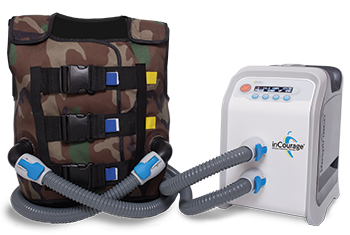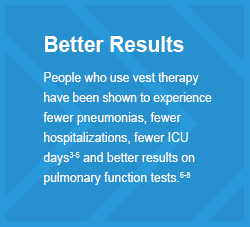 Hospital to Home
For patients who used ClearChest® Comfort Vests or Bands in the hospital, the inCourage System offers a convenient transition to in-home therapy.
To find out more, visit our inquiry page or call 1-800-793-1261.
Citations:
Pugh MJ, et al. Increasing Prevalence of Chronic Lung Disease in Veterans of the Wars in Iraq and Afghanistan. Military Medicine 2016 May;181(5):476-81.
Cole P. The damaging role of bacteria in chronic lung infection. The Journal of Antimicrobial Chemotherapy 1997;40 Suppl A:5-10.
Giarraffa P, Berger KI, Chaikin AA, Axelrod FB, Davey C, Becker B. Assessing efficacy of high-frequency chest wall oscillation in patients with familial dysautonomia. CHEST 2005;128:3377-3381.
Landon CG, W., Evans, J. Airway Clearance Therapy Utilizing High-Frequency Chest Wall Oscillation for Medically Fragile Children. Poster Session at the Annual Meeting of the American Medical Directors Association, March 2002, San Francisco, CA 2002:Poster.
Plioplys AV, Lewis S, Kasnicka I. Pulmonary vest therapy in pediatric long-term care. J Am Med Dir Assoc 2002;3:318-321.
Warwick WJ, Hansen LG. The long-term effect of high-frequency chest compression therapy on pulmonary complications of cystic fibrosis. Pediatr Pulmonol 1991; 11:265-271.
Hansen LG, Warwick WJ. High-frequency chest compression system to aid clearance of mucus from the lung. Biomed Instrum Technol 1990; 24: 289-294.
8. Arens R, Gozal D, Omlin KJ, Vega J, Boyd KP, Keens TG, Woo MS. Comparison of high-frequency chest compression and conventional chest physiotherapy in hospitalized patients with cystic fibrosis. Am J Repir Crit Care Med 1994; 150: 1154-1157.
Milla CE, Hansen LG, Weber A, Warwick WJ. High-Frequency chest compression: effect of the third generation compression waveform. Biomed Instrum Technol 2004; 38:322-328.