Triangle Waveform Difference Download PDF
More Comfort with Shorter Peak Pressure.
Most vest systems use sine wave technology that increases pressure when a patient takes a deep breath—making the vest therapy feel constrictive. The Triangle Waveform of the inCourage® System is different. It uses a unique air-chopping valve that delivers a "thump" to the chest to loosen, thin and move mucus out of the airways. Active Venting also allows the vest to maintain a constant pressure when the patient takes a deep breath.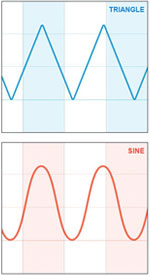 More Effective Airway Clearance.
A triangular shaped waveform creates peak pulse pressure for shorter duration than sine wave systems. Shorter durations of peak pressure contribute to improved comfort during therapy.
One study found the triangle waveform pulse of the inCourage® System produced an average volume increase of 20% in mucus cleared – in some cases over 40% – and study participants found it easier to breathe during therapy.9