Bronchiectasis
Bronchiectasis (bron-kee-ech-tuh-sis) (BE) is a common but frequently undiagnosed condition where the airways of the lungs are abnormally widened and scarred.1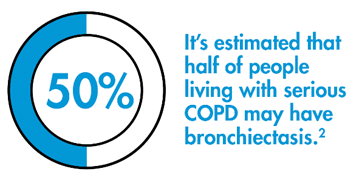 Symptoms that may be indicators of BE include:
Declining lung function2
Chronic productive cough3
Chronic mucus secretion of sputum (phlegm)3
Repeat antibiotic use for chest infections2,4
Need for supplemental oxygen2,4
One or more hospitalizations in the last year2,4
BE causes your airways to lose their ability to clear out mucus, which can lead to chronic inflammation and infections.5 While there is no cure for patients diagnosed with BE, early detection and airway clearance therapy can lead to a better quality of life and slow or prevent future lung damage.5 The goal is to clear out mucus before it builds up, making it harder for bacteria to grow.
inCourage® Airway Clearance Therapy is a drug-free way to clear excess mucus from the lungs. We're here to help you on your journey to better breathing. Fill out the form below to receive your RespirTech BE information kit, then talk with your doctor to see if the inCourage® System may be right for you.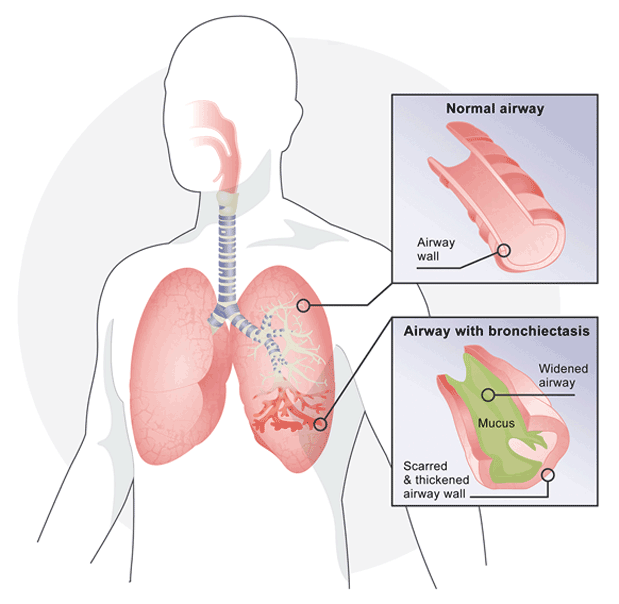 Complete this form to receive your Bronchiectasis Information Kit
1. Maselli DJ, Amalakuhan B, Keyt H, Diaz AA. Suspecting non-cystic fibrosis bronchiectasis: What the busy primary care clinician needs to know. Int J Clin Pract. 2017;71(2):e12924.
2. Martínez-García MA, de la Rosa Carrillo D, Soler-Cataluña JJ, et al. Prognostic value of bronchiectasis in patients with moderate-to-severe chronic obstructive pulmonary disease. Am J Respir Crit Care Med. 2013;187:823–831.
3. King P. Pathogenesis of bronchiectasis. Paediatr Respir Rev. e011;12(2):104-110.
4. Weycker D E, J, Oster G, Tino G. Prevalence and Economic Burden of Bronchiectasis. Clin Pulm Med. 2005;12(4):205-209.
5. American Thoracic Society. ATS Patient Education Series. Am J Respir Crit Care Med 2017:195;15-16.
Marjorie M., CA. After 40 years of repeat antibiotic use and declining quality of life due to bronchiectasis, Marjorie is back to camping with help from inCourage Therapy. — Learn More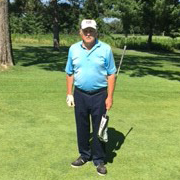 Bill C., MN A diagnosis of bronchiectasis left golf enthusiast, Bill, with shortness of breath and a near-constant, problematic cough. With the help of inCourage Airway Clearance Therapy, he is back on the course and his cough has decreased. — Learn More